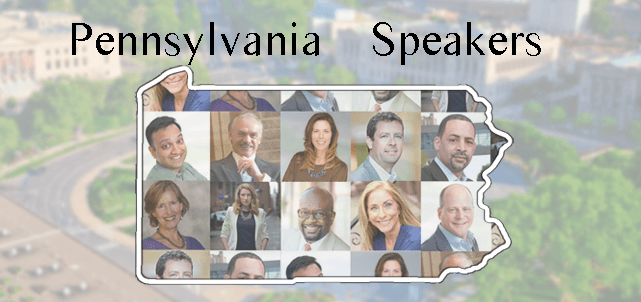 Today we're hitting the next stop on our Summer Road Trip! We're pulling up to The Keystone State, where we'll be sharing ten of our best Pennsylvania keynote Speakers.
---
NFL Running Back, Vietnam Veteran and Author
From a soldier's uniform to an NFL player's uniform, Rocky Bleier imparts the life lessons that helped him overcome the trying circumstances that threatened to derail not only his career, but his life.
Topics: Military, Sports Stars, Football/NFL
---
President and CEO of The Marks Group, Author, and Small Business Management Columnist
As a small business expert, Gene writes daily for The Washington Post focusing on issues affecting the business community. Through his keynotes, workshops, seminars and executive retreats; Gene helps business owners, executives and managers understand the political, economic and technological trends that will affect their companies so they can make profitable decisions.
---
Corporate Coaching
Shannon is a certified Executive Corporate Coach and a renowned authority on behavioral modification and communication. The small incremental changes she teaches and incorporates into her presentations are as easily and instantly executable, as they are effective.
Topics: Communication Skills, Leadership, Negotiation
---
NY Times Best-Selling Author and Global Thought Leader on Employee Engagement
Serial entrepreneur and bestselling author, Kevin Kruse, used a relentless focus on talent and employee engagement to build and sell several, multi-million dollar technology companies, winning both "Inc 500" and "Best Place to Work" awards along the way.
Topics: Recruitment & Retention, Leadership & Inspiration, Business Entrepreneurship
---
Nutrition and Fitness Expert, Media Spokesperson
She is a nationally recognized expert in the field of health, wellness and cardiovascular disease prevention and is frequently sought after by the media as a trusted source of nutrition and fitness information. Dr. Janet has served as a nutrition consultant for leading firms such as American Express and Proctor & Gamble, and has conducted health seminars for Fortune 500 companies
Topics: Health & Wellness, Media Personalities, Fitness
---
Opens the Door to Successful Growth and Transformation!
Keith has risen to become a successful corporate president and one of the highest-ranking African-American executives in the U.S. Keith understands the rules for success, rules he now shares as an author, speaker, and thought leader.
Topics: CEOs & Business Leaders, Diversity & Inclusion, African-American
---
Kathleen Pagana
Leader in Healthcare
She has been a leader in healthcare for more than 35 years, with experiences including college teaching, administration, clinical practice, business management, writing, and professional speaking. Among the 28 books she has written, she has co-authored the number one best-selling book on healthcare diagnostic and laboratory testing.
Topics: Healthcare Experts, Life Balance, Communication Skills
---
Professor, Writer, Facilitator, Business Consultant, Author of Invisible Capital
A graduate of Yale College, Chris worked in the U.S. Senate as a legislative aide and as a writer, researcher, and trainer for the White House Conference on Small Business. Additionally, he seamlessly incorporates his unique humor and eclectic experiences into his interactive presentations, speeches and writings.
Topics: Corporate Social Responsibility, TED Conference, Small Business Development
---
Harvard Doctor, Mentor, Runner, International Humanitarian, Speaker
Described as a healer, educator and Boston community leader she received the 2012 Change Maker award from The Boston Foundation. Natalie speaks to audiences about her experience as a first responder and what ultimately led her to make that fateful decision to run into a terrorist attack.
Topics: Overcoming Adversity, Motivational, Inspirational
---
Motivational Improviser
As the world's only Motivational Improviser – Avish creates a unique, high-energy, hilarious experience that is the perfect way to open or close your event with energy, insight, and hilarity.
Topics: Comedy, Entertainers, Communication Skills
---
For speaker fees and availability, email [email protected] or call 1.800.345.5607
---
Eagles Talent 2018 Summer Road Trip:
Your Are Here: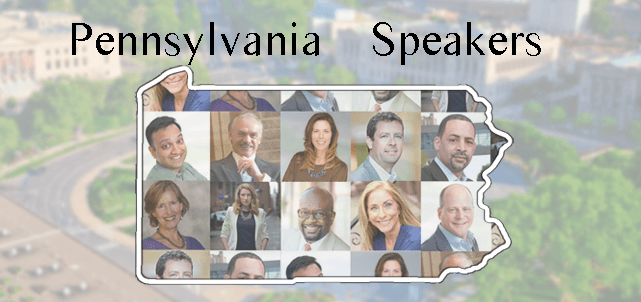 Next Stop: Ohio